Barrie's place, being on the top of a ridge, meant that upon departure, we had to decent a short but steep hill. The gravel on the hill was a little soft, such that yesterday Becky chose to climb it by pushing her bike rather than riding it. Somehow, Scott suffered a little amnesia this morning and forget that the road was very soft near the bottom. He had an enjoyable ride down the hill until he hit the soft stuff. Becky, with her hands firmly on her brakes, looked up to see Scott slowly oscillating: back and forth he went, before finally falling over in a cloud of dust and crunch of gravel.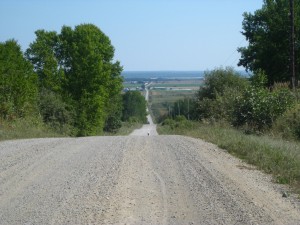 Lots of loose gravel on these roads.
After a thorough examination, Scott was diagnosed with a few scrapes on his knee, a small chunk out of the palm of one hand, a bruised butt, and very bruised pride! Fortunately both he and his bike survived, however the seat got another dent from the handlebars, the front sprocket and chain tube filled with sand and the utility bar cracked – good thing we don't regularly ride at night, since he now has no place to attach his front light.
Our advice: slow down descending hills when the gravel might be loose!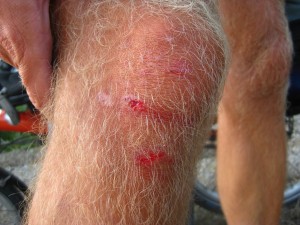 Scott's scratched up knee – ouch!
After a brief cleanup of bike and rider, we were on our way again. Fortunately the rest of the day was much less eventful. We crossed into Quebec, Scott said goodbye to his faithful utility bar at the Notre Dame du Nord tourist info, and we ended the day at La Bannik; a nice (if expensive) full-service campground near Fort Temiscamingue.

Goodbye utility bar!
98 km, 6h 50min, Kenabeek to Bennik Campground in Ouest-Duhamel

We're certainly in farm country again – look at the roads, all straight lines and right angles.