Our journey down the Ottawa River began at the top of Lake Temiskaming, the source of the river. In order to avoid highway 11, we choose to ride along the Quebec side of the lake. Upon entering Quebec the roads were immediately nicer. For the first time in weeks we saw a consistent shoulder. The rest areas were also a definite upgrade, most having running water although not always potable. All the rest areas we passed would make excellent sites for wild camping.
Nice shoulders on Quebec roads.
The one disadvantage to riding along the Quebec side was that the roads were not flat. At times the hills were just as bad at the hills around Lake Superior. They made the ride more interesting, often providing pretty glimpses of the Lake, but also slowed us down and ensured that we were tired by the end of the day. Our first day after Barrie's place we had hoped to ride 120 km, but only made 98 km. With the shorter distances and decreasing daylight hours, we soon realized that our goal of arriving home on September 15 was no longer realistic. We officially re-forecast our arrival home for September 16th.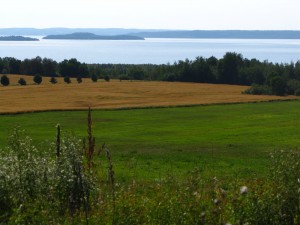 Beautiful views of Lake Temiskaming. In the north, there were farms along the shore, but further south the landscape was wooded, similar to Gatineau Park across the river from Ottawa.
We spent one night in Quebec at the beautiful Bannik Campground in Ville-Marie near Fort Temiskaming ($26). The campsites were set in a nice treed area, the showers were clean and warm, and they had laundry facilities.
The continued ride along Lake Temiskaming reminded us very much of riding the along the Gatineau Parkway just across the Ottawa River from home. The hills certainly reminded us of Gatineau, and reinforced that we would not be getting home on Monday as originally planned.
By 5:30 pm, we pulled into the town of Temiskaming at the southern tip of the lake and did a final re-supply – fresh bread and fruit. Our plan for the next day was to take the shortcut along highway 533 directly to Mattawa, saving us 80 km and avoiding North Bay. We first heard warning about the "back-roadness" of this highway from Isabelle at Barrie's place. In Temiskaming a cottager also warned about the road. Both commented on the narrow road, limited sight-lines and crazy drivers, so we were a bit concerned what we were getting ourselves into.
With the warning of the road, and no campground nearby, we decided to ride out to the rest area near the intersection of highway 101 and 533. This would allow us to tackle highway 533 on Sunday morning and hopefully avoid the worst of the traffic. The rest area turned out to have a nice creek/river flowing next to it and a treed area behind it, allowing us to rinse the sweat and road grunge off our bodies and set up camp with a little bit of privacy. Other than being a bit too close to the road, it was a perfect free camping spot.
Becky went for a quick dip along the shore of the river without incident, but when Scott went for his dip, he was surprised by a car pulling in, and driving toward him. At this point he was standing completely naked in the river, balancing on one foot and attempting to dry off. Fortunately, it was after dark, and the river bank was high enough he could duck below it. The car parked well away, and he was able to finish drying off without further issues.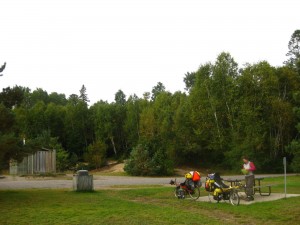 Making breakfast at the rest area near the intersection of highways 101 and 533.
Our strategy of riding highway 533 on a Sunday morning worked out perfectly. It was indeed a "back-road" in that the quality of the tarmac was a significant downgrade from highway 101. In most places there was no yellow line, and the shoulders were made of loose sand and big rocks. On the plus side, there was very little traffic, and the route was very pretty, giving us many glimpses of small lakes through the mature forest. It had lots of ups and downs, only letting us average 15 km/hr, so by the time we arrived in Mattawa, we were ready for lunch, and to be back on a better road.
At Mattawa we rejoined highway 17, and would remain on highway 17 until Pembroke, where we could get off of it for good. The traffic was quite a bit lighter and more polite than we feared, making for a pleasant ride. Our map showed several towns on highway 17 that turned out to just be a few houses or resorts and had no services (Deux Rivieres and Bissett Creek). We unfortunately passed these as Becky was craving her afternoon ice cream break. Just as we had given up hope, a gas station / convenience store appeared in Stonecliffe and ensured Becky did not miss her day's dose of ice cream.
We stayed at the Morning Mist Resort ($21) in Stonecliffe. They were definitely more accustomed to RVs than tents, but were very friendly and welcoming. Their sites were huge and they had a nice covered picnic shelter where we could plug in our laptops and check email while cooking breakfast :).
As Becky was taking down the tent, she lifted the tent by the poles and shook out the dirt from the bottom of the tent. This was our normal routine, but just as she was about to put  the tent down, she heard a CRACK! The tent was now looking quite lopsided. After further investigation, she discovered that one of the poles had snapped at the join. Quickly she removed the tent releasing any pressure on the rest of the poles. Fortunately, Scott was able to make a temporary repair using one of the hose-clamps he has been carrying. It is nice that we weren't carrying the hose clamps the entire trip for nothing! We don't recommend this as a permanent fix as the clamp has rough edges that could cause a rip in the fly – but it was good enough for our one remaining night of camping.

Broken and temporarily repaired tent pole.
We had an easy day riding into Pembroke. From here, we would be riding the back-roads home – no more highways. Pembroke was also our last night camping. We stayed at the municipal Riverside Campground ($21) which had adequate facilities – it felt more like camping in a sports fields than a campground. We were glad for access to a table in the laundry room, as it started to rain just as Becky was preparing dinner. After dinner, as Becky was sitting in the tent with lightening and rain all around, she was reminded of our journey around Lake Ontario last June. It was appropriate that our last night in the tent would be so similar to our first!
113 km, 7h 20 min, Bannik Campground, Quebec to rest area
125 km, 8h, Ouest-Duhamel rest area to Stonecliffe
84 km, 4h 30 min, Stonecliffe to Pembroke
We saw these crosses all along the Quebec shore of Lake Temiskaming. We've never seen crosses like this before, but we assume that the ladder, hammer and pliers are a reference to the tools used to crucify Jesus. Can anyone confirm?
Lunch by a small lake East of Lake Temiskaming along highway 101 in Quebec.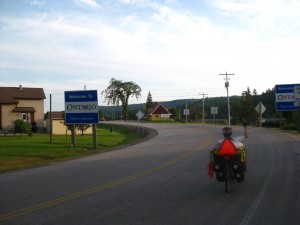 Welcome back to Ontario!
Our first sight of the Ottawa River. Almost home!
Railway bridge across the Ottawa River.