We left Timmins on a beautifully sunny morning. The rest day in Timmins must have been good for us, as the bumps in the road did not bother us nearly as much as previously. Shortly after a nice lunch break and a bit of road construction, we were flagged down by a car who had pulled over. Brent, a Warmshowers host from Cochrane, stopped us to say Hi and offer us a bottle of water. We had a brief chat at the side of the road. At one point, he asked us if we were travelling two – which we found especially amusing since Friedel and Andrew were staying at our place in Ottawa that night. Of course we replied with "no, we are goingeast!", which he initially though was a bit redundant given our direction on the highway.  It was too bad we were not going through Cochrane, as it would have been nice to visit with Brent longer. If you are transiting Ontario via highway 11, do consider stopping by and visiting him.
We had planned to camp at the rest area near Swan Lake; however, just before the rest area a campground appeared. In Timmins we decided to splurge for campgrounds for our last few days in Ontario, so with the prospect of a warm shower, we opted for the Swan Lake Campground ($22). The owners were very friendly, and the facilities were quite nice. One of them explained that they were not listed in the Ontario Campground book because it would cost them over $400 to register. We found the book to be useless as very few campgrounds are actually listed in it!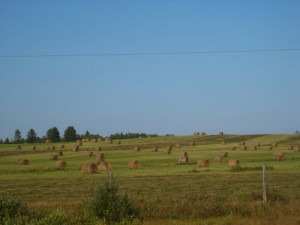 We are now back into farm land.
The next day, we had arranged to spend the night at Warmshowers host Barrie's "log house" in Kenabeek. We had no idea what to expect, and were delighted when Barrie rode out to meet us. He led us through various farm roads onto a ridge, then into the middle of a beautiful forest.
Barrie lives in a beautiful log home surrounded by forest, with a small stream running out the back. The house is off-grid, so power is provided either by his hydro generator – when the stream has enough water – or by a backup diesel generator. He has running water which comes from the stream and he gets his drinking water from a natural spring elsewhere on the property. When we arrived, his hot water heater was broken (and had been for several years), so if we wanted a hot shower, we were out of luck. Fortunately, we were more than happy to exchange that hot shower for a swim in a small lake nearby. We all hopped into his old VW van and drove down the road following some narrow pathways – that only a local could navigate – to be presented with the most beautifully picturesque small lake, completely surrounded by forest. We only wish one of us had thought to bring a camera! We thoroughly enjoyed a swim in the silky smooth water.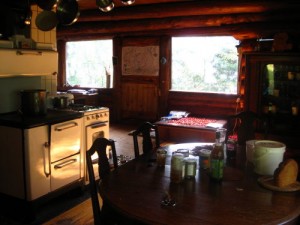 A small peek inside Barrie's home.

South wall of the house.
After our swim we enjoyed a narrated walk through the woods. The forest on Barrie's property had burned almost completely in 1920 and was allowed to grow back naturally. After the fire, it began as almost 100% jack pine, but is now about 20% jack pine with a mix of other species. The jack pine is a determinant tree with an 80-90 year lifespan, so as the older trees die they are replaced by different – indeterminant – tree varieties.  In a natural forest the jack pine only grows after a large fire, but forest companies seed with jack pine in their "managed forests" because it grows quickly and can be harvested in only 60-80 years.
To end a perfectly delightful afternoon, we enjoyed some of the best squash soup we have ever had. Barrie's friend Dada (an Ananda Marga monk)  made the soup using vegetables from Barrie's huge organic garden. We were also joined by Isabelle, a cycling friend of Barrie's. A wonderful evening of conversation and yummy food.
In the morning, we were able to do our regular yoga routine in the main room of Barrie's house. He has hosted yoga retreats here, and he and Dada each do their own morning yoga practice, so the house was used it <grin>. Breakfast was a wonderful meal of quinoa and ground nuts, made exactly how we liked it (because we each mixed our own). Becky really enjoyed the Eastern Ontario taste of real maple syrup – we must be getting close to home! Becky was also delighted when Barrie offered her some coffee and he pulled out her favourite Kicking Horse Kick Ass coffee. Unfortunately, the coffee was whole bean and the coffee grinder required power. This problem was quickly sorted by walking with the coffee grinder up to the garage to start the diesel generator.  Perhaps a bit much just to grind some coffee, but it made Becky very happy.  She can't think of a better way to start the day than good food and yummy coffee.
114 km, 6h 50 minutes, Timmins to Swan Lake Campground
92 km, 6h, Swan Lake Campground to Kenabeek

Squash and pumpkins bring fall colour to Scott's loaded bike.

Barrie, Becky, and Dada in front of a bright barrel of winter squash.