Today: 57.24 km
Ride time: 3h 11m
Unfortunately, I don't have the GPS tracks for today because I forgot to plug in my GPS last night and I appear to have not turned it off at the end of yesterday (oops). Here is the track for part of the ride out to Panmure Island.
Today we ventured out to the Panmure Island lighthouse and beach.
On our ride out (and many other times throughout the week), we saw herons. Scott took this great photo:


On the way to Panmure Island, we took a detour to see the St. Andrew's point lighthouse. Unfortunately, the lighthouse was on private property, so we were not able to go an take a close look. We did continue along to a little park, and had a good view of some seals. While in the park, we met a gentleman that was traveling by motorcycle. He lived on PEI and had a bunch of huskies. He commented that he liked to run them on the Confederation trail in the winter time, but unfortunately, it was difficult, because snowmobiles used the trail and were often traveling at very high speeds.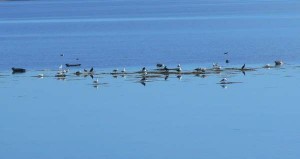 When we got to Panmure Island, we passed by the park and continued onto the lighthouse. Since we did not see Catherine and Kurt at the beach, we wanted to check out the lighthouse before going swimming. We chose not to climb this lighthouse, because they wanted $4 each person! We thought that was a little excessive (specially since the Prim Point light was free).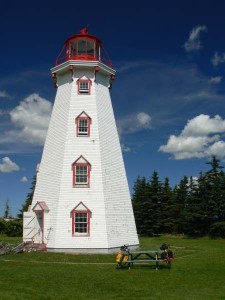 Panmure beach is a long beautiful beach.


Scott and I did make a valiant attempt at swimming. We ran into the water and dunked our heads, before departing. Our ride back to the B&B was quiet and uneventful.
That night, we did get a chance to try out that new organic local restaurant in Murray River, Finnan Haddie, the one we missed on our way through the first time. We had a decent meal at a great price with great company.