Our day began with a short ride up to the continental divide – from now on all the Lakes and Rivers will flow into the Atlantic Ocean. This is the last continental divide we will cross on our journey and provides yet one more sign that we are getting closer to home. It could also mean that we're riding downhill from here, but that was disproved a few km later with a climb to well above the height of the continental divide. Oh well…
Our other last for the day is time zones. Today, we entered the Eastern Time Zone. We will no longer be needing to lose an hours sleep when we feel we need it the most – like just before riding a 140 km day!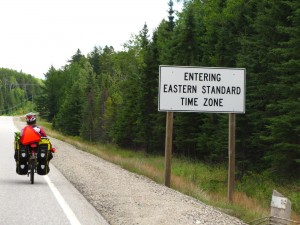 Our route into Thunder Bay brought us by Kakabeka Falls, nicknamed 'The Niagara of the North'. While Scott was viewing the (very impressive) waterfall, Becky answered many questions about our bikes and our journey. While stopped at the park, we also used their nice shaded lawn for some afternoon yoga before hopping back on our bikes and continuing to Thunder Bay. We also decided that we weren't vehicles, and thus didn't need to purchase two $5 parking passes.

Kakabeka Falls.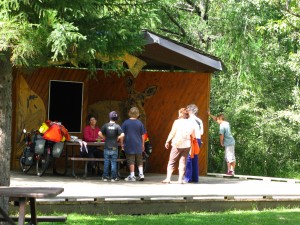 Becky describing our bikes and our journey to passer's by at Kakabeka Falls park.
In Thunder Bay, we are staying with a friend from church, Suzanne, and her family. It is wonderful to be welcomed into a family and have a roof over our heads once again. We are looking forward to a night or two of rest in a comfy bed, as well as visiting, relaxing and resupplying.
So far Canada has been a wonderful adventure. We only wish we had more time so we could ride a little slower and spend more time visiting the various places along the way. We are definitely feeling the effects of long riding days, and hope the brief rest in Thunder Bay will recharge us for the last push to get home.
145 km, 7h – Huronian Lake Rest Area to Thunder Bay