For the last couple of years, as I went through the drudgery that is applying for scholarships, I promised myself, if I get a SSHRC Doctoral Fellowship (the social sciences and humanities research council doctoral scholarship), that I would buy a folding bike. So, in April when I received notification of a SSHRC award, I literally danced down the street. It is a huge accomplishment, but also, it meant that I finally got to purchase a folding bike!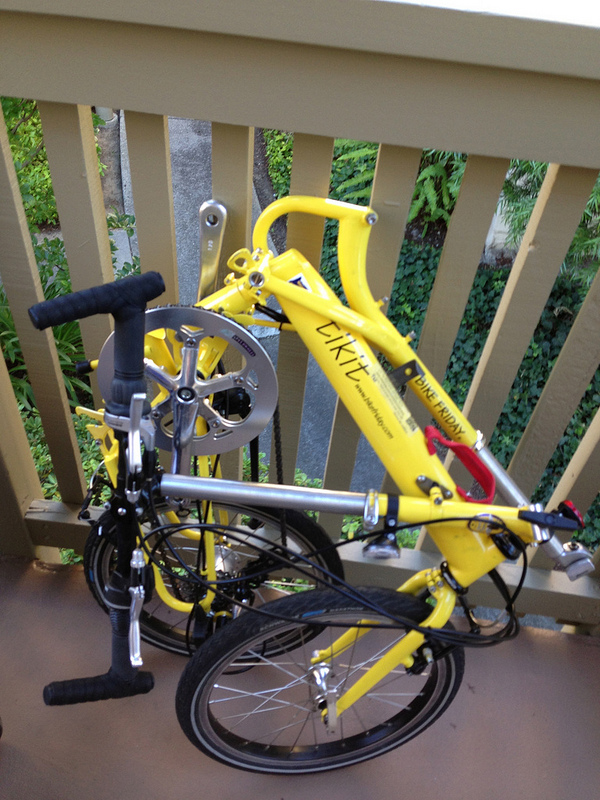 After much research and debate, I choose a Bike Friday. It has the benefits of a quick fold for easy transit and throwing in the trunk of your car, and a more elaborate disassembly to pack securely in a suitcase for airplane travel (something that I am doing a lot now that Scott lives in California!). But what really sold me on the bike was the promise of a folding bike that doesn't ride like a folding bike. When I test rode the Brompton, it really felt like a bike that was a compromise. I would be compromising the comfort and feel of a bike to get the convenience of the fold. I didn't know for certain that I had made the right decision until I got a chance to actually ride the bike.
Although we ordered the bike back in June, it arrived a few days after I returned to Ottawa. It wasn't until yesterday that I got a chance to try out my new bike. I can confirm that I can comfortably ride at a reasonable speed. On our quick tour of the neighbourhood (Scott on his Bertrand road bike), I was easily able to ride at 25 km/hr. The only thing preventing me from riding faster was my legs!
It certainly looks funny, but it rides like a normal bike. So much so, that I forgot I wasn't riding a regular bike, and when I stopped I went to lean the crossbar against my thigh to grab something (hands free), and dropped the bike! I need to find a new way to lean the bike against myself so that I can free my hands when I stop!