We arrived in Thunder Bay on Tuesday evening, and were delighted to discover that Wednesday night was race night. Suzanne and her husband Karl are avid sailboat racers, and we were eager to join in if we could. With Suzanne's assistance, we each were added to the crew rosters of two sailboats in the A fleet (fast boats) for the Wednesday night PRHF race. Scott's boat even took first place honours. After a night of racing and the requisite drinks afterwards, we decided that a second rest day was necessary.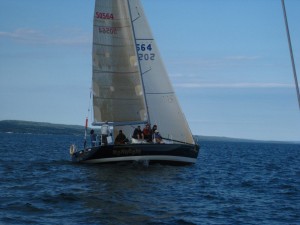 Scott acting as 'rail meat' on Mongoose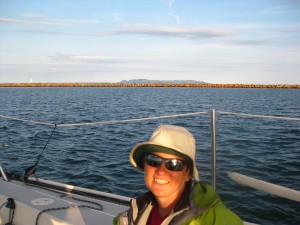 Becky relaxing after her race, with the Sleeping Giant in the background
Unfortunate, the weather took a turn for the worse and we ended up with two solid days of rain. So rather than suffer through riding in the rain (with a nasty headwind too), we opted for additional rest days. We are lucky to have such great friends: Suzanne, Karl, and the girls (Linnea and Mila) who hosted us throughout our stay in Thunder Bay, and happily let us stay the extra time. It was great to visit as well as relax. With Becky eagerly volunteering to cook since she had access to a real kitchen, we can definitely tell that we're ready to be home soon.
Suzanne, Mila, Becky, Linnea and Karl