In B.C. they have recently changed the licence plate motto and other provincial propaganda from "Beautiful British Columbia" to "British Columbia – The Best Place on Earth". We certainly agree it's beautiful, but we struggle a bit more with "The Best Place on Earth". Did that come from one of those "best place to live" surveys or something? Our guess is that it is associated with the 2010 Winter Olympics publicity. So far, our vote for Best Place on Earth is still Hawaii! (or maybe Thailand, or Turkey, or B.C. or …)
After leaving McBride, the first town we passed near was Tete Jaune Cache (named after a fur trader with yellow hair). Similar to Cape Breton, the locals bastardize the French name and call it "Tee John".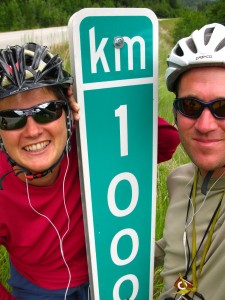 Yay! 1000 km on the Yellowhead since Prince Rupert.
Once we turned the corner at Tete Jaune Cache, the landscape changed dramatically. We were no longer in the plains and valleys of central BC, and were now entering the Rocky Mountains. Luckily, the weather stayed clear long enough for us to enjoy a spectacular view of Mount Robson.

It was clear enough for us to get a peek at the peak of Mount Robson
Dark clouds surrounded us for much of our climb, but fortunately we didn't get too wet. Our rain gear did a good job of keeping us warm too, and the combination of cloud and sun made for some dramatic views and spectacular rainbows. Becky's rose-coloured lenses allowed her to spot rainbows when they were very faint, and we enjoyed watching both double rainbows and chorded rainbows as we rode. The photos we took are pretty, but don't do them justice.
The sign to the Lucerne campground from the Mount Robson visitor centre said 42 km; unfortunately for us that turned out to be incorrect. We were surprised because the GPS, mile-by-mile cue sheet, and the park sign indicated roughly the same location for the campsite. Everything said it should be around 57 km from "Tee John", but it was 10 km further, and included a bonus 100m climb! The distance was actually 52 km from the visitor centre, and since we were pacing ourselves for a 120 km day, we were completely drained by the time we arrived.
This was our last full day of riding in BC. The campsite is only 10 km from the BC Alberta Border and the continental divide. Tomorrow we tackle the Yellowhead pass and enter "Wild Rose Country" (the Alberta motto).
Riding north up Vancouver Island and then across BC feels like a huge accomplishment, especially for Becky. The 1820 km is not that huge compared to our total distance travelled, but perhaps it feels more real and significant because this is familiar ground. Becky has driven this route many times over the years, and never once thought she might cycle it. We also rode from Victoria to the Northern BC/Alberta border and we managed to not spend a single night in a hotel or B&B – a first for us. We did spend several nights indoors while visiting with friends and family, and spent 17 nights camping including four nights free camping.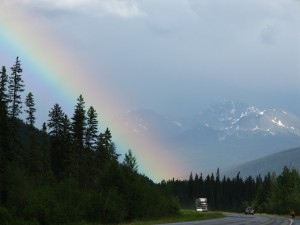 This rainbow almost looked like the Northern Lights jumping out of the sky.
132 km, 7h 45 min – McBride to Mount Robson Lucerne Campground