92 km, 6h 10 min.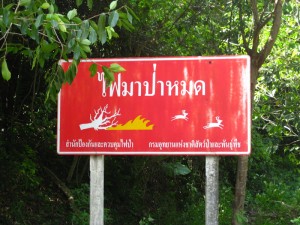 One thing we can confirm after riding in Thailand for a week is that Thai's are definitely dog people. Almost every house we pass by has at least one and sometimes many dogs associated with it. They are seldom tied up, and often wonder at us as we pass.
We find it interesting that the dogs ignore the motor bikes, but find us particularly interesting. Scott thinks part of the issue is that we are so quiet we sneak up on them. When he makes scooter sounds the dogs seem less likely to bark. (It's difficult to run a properly controlled experiment, but dogs seem much more interested in me when we ride up silently.) When they do bark, Becky shouts back at them "GAI!", which is Thai for "chicken". So far this has worked for her. We must seem like quite the odd farangs (foreigners) as we ride by on our funny looking bikes making motorcycle sounds and yelling Chicken! at barking dogs.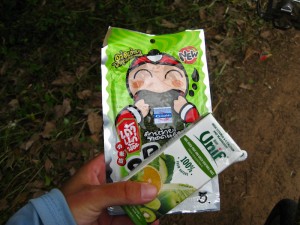 Today's ride was long. We are definitely feeling the cumulative effects of riding 7 weeks in the heat. We still enjoy the little things we see in the day and all the cheerful people saying hello, but we are not that enthusiastic about riding the distances anymore. We definitely are ready for several days off the bikes visiting new friends in Bangkok.
We are staying in a lovely little beach town Hat Bang Boet. We have not seen any other foreign tourists in this town, although there are at least 4 hotel/resorts. The standard rate for rooms appears to be 800 Baht, however we were able to negotiate an "expired" promotional rate of 580 Baht. We enjoyed our dinner at a beachfront restaurant as the sun was setting and kids were playing with small boats in the sheltered bay. Very pleasant!