We met our Servas host, Omer, after he finished work on Friday. We had planned to meet at the "Peace and Friendship" statue outside of the HSBC building where he works, but a security guard with machine gun was clear that we weren't to wait there, so we moved to the sidewalk nearby. Fortunately Omer found us anyway. We quickly followed him to a company shuttle bus and were whisked away across the Bosporus (to the Asian side of Istanbul) to the neighbourhood in which he lives. Turkish law states that all companies with more than 1500 employees must provide shuttle service. This is true anywhere in Turkey, but is especially important in Istanbul, with people travelling to work in private cars the traffic congestion would be even worse than it already is. Instead, the worst congestion is on Friday nights and Saturdays. Seems like a great idea!
We had a quick, and delicious dinner at home with Omer, his mother, and two year old daughter Ilke. At dinner, Omer's mother asked if we were married. Becky said "yes, for six years". Her reply was "Where is the product?" We were amused and were able to use Friedel and Andrew's suggested "Inshallah" (Allah/God willing) response. It is a much more effective response here than anything we've used back in Canada.
After dinner we were off to a performance of traditional Turkish music from the Black Sea region. Omer's wife Evren was working late, but we picked her up on the way. The trekking and mountaineering group Omer and Evren belong to was doing a cultural meeting – for the first time getting together someplace other than a trail or mountain.
We were expecting some sort of club or similar venue, and were quite surprised when we arrived at a banquet hall. White table cloths, covered chairs, munchies on the table – it felt more like a Canadian office Christmas party than anything else. Fortunately people were not dressed up in fancy outfits, since we do not own any dressy attire. The room was full and two tables were reserved for the trekking group. We chatted with a few people, but only in English. Scott wishes his Turkish was better, but hasn't succeeded in getting very far with it.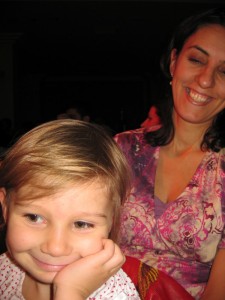 Included in the admission price was two drinks. We continue to be surprised at casual drinking in Turkey – it really is no different than at home. The stereotype of Turkey as a strict Muslim nation is clearly not true. We were also surprised that it is common to bring your children with you to these outings – there were many children at the party, mostly they sit with their parents and are exceptionally well behaved. We have friends in Ottawa from the Ukraine who do the same with their kids, and so we were not unfamiliar with the practice of just bringing the kids along when you go out.
The music was an interesting mix of modern and traditional instruments, with Tulum (like bagpipes), Saz (like a long-necked lute) and another bowed instrument mixed with guitar, bass, drums and keyboards. Not quite traditional folk music, but a recognizable derivative. Sort of like Spirit of the West during and after the Save this House album…
It was a late night, we did not get to bed until after 1 am, and we got up late on Saturday morning. We had both woken up early (7:30 am), but the house was still fast asleep, so we went back to bed and did not reappear until 10 am. Unfortunately, getting up late meant that we missed an opportunity to visit with Evren and Ilke as they were departing for a family visit in Bursa. Had we realized this, we would have gotten up shortly after they did to enjoy a short visit. Becky had a great time getting to know Evren a little bit at the party on Friday night.
The plan for the late morning was to go for a walk in the woods. Omer's mother (who lives with them and provides childcare for Ilke while they are working) is an expert with local herbs. While we walked in the forest, she collected a variety of edible greens, some of which we enjoyed with dinner.
Our trip to the woods was not without adventure. There had been a fair bit of rain in Istanbul on Thursday. The path up to the woods was normally hard-packed dirt; however, when we approached it was soft rutted mud. It did not take long for the car to be stuck – attempting to climb a soft mud hill with two wheel drive and summer tires was somewhat ineffective. After several attempts at pushing, Becky got behind the wheel and helped to reverse the car out of the rut, down the hill, and park it on the grass. Driving on wet mud is a lot like thick snow with a layer of ice! Once this was done, we were able to enjoy a nice walk in the woods.
The walk in the woods was a similar tradition to at home; however, the woods had a lot of garbage in it. We were happy to see Omer bringing along a garbage bag, and Scott helped collect some of trash as we walked. After about an hour, it began to rain, so we made our way back to the car. We were both nervous about the ride out of the muddy fields, and we both felt a sigh in relief as Omer successfully navigated the car off of the muddy trails and onto pavement.
After the walk in the woods, we drove back across the Bosphorus to the Europe side. Omer was part of a football (soccer) team competing in an tournament against other HSBC teams. This was one of the elimination games. It was a 7 on 7 game, on a reduced-size field, and both teams were quite skilled to our Canadian eyes. (Scott played intramural soccer at Newbridge one year, but isn't very good). The soccer field was covered, which was nice since it had started to rain. Unfortunately, it did not have full walls, so it was rather chilly sitting and watching. Becky went to get some tea, and she was successful in ordering three teas (oh-ch chai), although the folks behind the counter were amused with her pronunciation!
The soccer game turned out to be on the other side of Istanbul – north west of where we stayed on the Europe side. Unfortunately, the traffic was terrible on the drive home. It took us at least two hours to cross the bridge back to the Asia side of Istanbul. By the time we got home, we were all tired and hungry, but especially Omer, who got stuck with all the driving.
Initially Omer told us of a plan to go over to a neighbour's house and watch a football match on TV after dinner. Immediately after dinner, we went upstairs to use the Internet to call and try to activate Becky's new credit cards – a task in which we had limited success. By the time we had finished and returned downstairs to visit, Omer had fallen asleep on the couch, exhausted after not enough sleep on Friday night, and many hours of driving on Saturday. Not wishing to disturb him, we returned to our room to do some Internet tasks and reading. We were happy for the quiet night, but felt awkward not having communicated any plans. Since we were already on the Asia side of Istanbul, we decided to return to Izmir on Sunday.
Throughout our visit, we often felt a little lost and uncomfortable. We had several interesting conversations and a few cultural exchanges, but at the same time we were often unaware of what was happening or what was expected of us. At times, there was a lack of invitation that made us feel uncomfortable – this could be a cultural thing as well. We are discovering more and more about our Canadian behaviours – sit quietly and wait for an invitation, don't ever ask for something you might need! We wonder if there was a cultural cue that we missed? In our reflections of our time with Omer and family, we noted that we were not questioned nearly as much as usual about our trip and our adventures or about our culture in Canada. Sharing our experiences and culture through stories is the only way we have to give back to our hosts (washing dishes doesn't count in our eyes), so we left feeling like we were not able to contribute. We were often unsure if we were in the way or if we were doing something that was offensive. When we checked with Omer shortly before leaving, he assured us there was nothing he felt we should have been doing differently, so we hope we were able to leave the family with a good impression.