Since we were almost at the Togo border, and didn't want the inflexibility of the bus, we decided to take a taxi from Doutou to the Benin/Togo border and then take some form of local transport (shared-taxi) across Togo to Lomé. In many ways that sounds more challenging than it actually is. Marianne arranged the first taxi for us – her usual driver picked us up and brought us right to the border. Since we'd been through the border in the other direction, we didn't find this border crossing at all challenging. We also saw the official price list for Togo Visa for Canadians and discovered that indeed we had not been ripped off. Our visas were 20,000 CFA each (a bit more than $40 CAD).
From there, we had learned from both Logan and Marianne that after clearing customs we needed to just keep walking until we reached the area of shared taxis. We had many people offer us rides to Lomé, so getting there wasn't going to be an issue. The issue was getting there without overpaying too much. So, we walked away from the border and the rush of people offering us rides, after about 300 meters the crowd became less, and then after about 500 m a shared taxi with two people in it asked if we wanted a ride to Lomé. Since it already had people, we could confirm that we were paying the same price as the other person in the back seat (1000 CFA, or $2 each) for the ride from the Benin/Togo border to the central area in Lomé, about 50km and 1.5 hours. At one point the driver stopped to pick up another person for the front seat (so two people pretty much sitting atop one another). We were a little worried about getting a fourth in the back seat, but we may have paid a bit of a premium to have only 3 of us (it was 1000 instead of 700 or 800). It worked out remarkably well.
When we arrived in Lomé we were dropped off at the intersection of the coastal highway and the central market. We were immediately swarmed by Zem drivers wanting to take us to our hotel. One of them promised not to drive to fast, and we negotiated a reasonable rate (300 CFA each). Becky had hoped for a real taxi, but we were not sure if they existed in Lomé – expecting that much like Cotonou, car taxis were few (in the end, we discovered that car taxis were more common in Lomé). The Zem drivers did indeed drive slowly, and since we had packed light, it wasn't a big deal to hop on the back of a motorcycle with all our bags.
The coastal highway through Togo was better than we remembered. The first few km were a morass of dirt and mud due to construction, but the rest of the road until Lomé was paved and in pretty good condition. At the Lomé port, we hit some more road construction, and a messy detour, but it only added 45 minutes or so to the drive.
In Lomé, we stayed at the Hotel Belle-Vue. We quickly discovered that the promised wireless internet was lightening fast compared to our internet connections in Benin. We took advantage of that, and the fact that the hotel had one of the best French restaurants in Lomé to enjoy a couple of days of catching up on writing blog posts, and organizing our remaining week and a half in Ghana.
Our sense of accomplishment the first day did lead to a pretty major "mistake". After dinner, Becky was so focussed on not forgetting her phone on the table that she forgot her purse! At the time, her purse contained both our passports and Scott's iPad. Fortunately, one of the waitresses at the restaurant brought it to the front desk of the hotel. Once we discovered it was missing, Scott retrieved it and we found nothing missing. Amazing. Note that although the hotel had a nice French restaurant the place was pretty basic. From a North American perspective, it would be comparable to a mid to low end motor hotel (thin towels, doors that closed but didn't quite seal). Great by African standards (our room had AC after all) but not by North American standards. This makes it all the more amazing that the purse was returned in the condition it was left!
We did venture out of the hotel compound for a brief walk to get a sense of how far the Ghana border was (not far, under 1km). The walk was long enough for Becky to buy a beaded necklace. Scott was not comfortable walking around having read the guidebook warnings about the beach, but the people we met were really friendly. Probably the guidebooks have us a little too paranoid, although walking at night is likely still a bad idea. One young child even sang us the Yovo song as we walked along her street.
Before leaving Cotonou, we had successfully booked our last four nights at the Green Turtle Lodge on the coast in the western most province of Ghana. Whilst in Lomé, we managed to setup a six day tour with Jolinaiko Eco Tours. We rented a car and driver (actually a 4×4 and driver) to pick us up in Aflao (the town on the Ghana side of the Ghana/Togo border) and drop us off at Green Turtle six days later. The tour company also booked our hotels and helped suggest an itinerary based upon our interests. It would mean we could go from Aflao to Green Turtle without having to go through Accra.
Gassing up the taxi in rural Benin. We saw many "gas station" that consisted of bottles of fuel put out on table tops on the side of the road.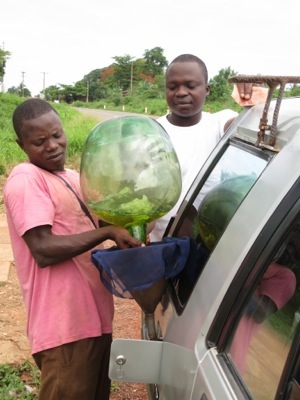 Scott walking just after crossing the border from Benin into Togo. We walked along this road until the shared taxi found us.

The hotel restaurant in Lomé at night (as we were about to have dinner).

The beach a block from our hotel in Lomé, Togo. You can't see the surf in the picture, but it was huge. There was at least a 20 foot drop-off from the sandy beach to the area where the huge waves were roaring in. There are few if any safe places for swimming on the coast of Togo.