Seems that this year (or at least this week) we completely skipped over spring and launched directly from winter to summer. As I write this it is already 15 degrees and today's high is expected to reach the high 20s. For those that are unfamiliar with Ottawa, our normal temperatures at this time of year are usually around or below 0. We should be skiing, not biking, but alas, the snow is gone (although there is still some ice on the river). Next week, with highs of about 10 is going to feel cold, but in reality it is still unseasonably warm.
Here are a few pictures of our first days out riding this year.
March 7 – see all the snow (notice the mountain bike handle bars):
March 18 – so warm I'm wearing a T-shirt. You can't really see it in this picture, but I've pulled out my road bike.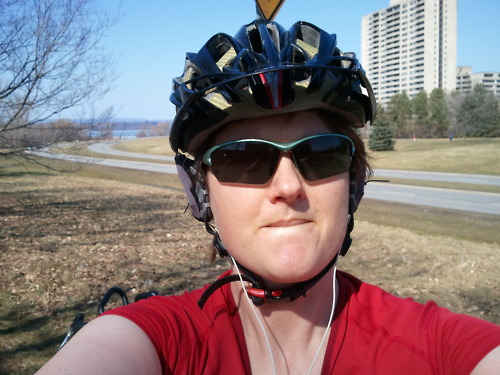 March 19 – And finally, I brought out the bent! Notice the ice on the river. According to my bike computer, the temperature dropped a full 7 degrees near the river because of the wind blowing over the ice!