The weather changed dramatically during our last night in the tent. It started off with thunder storms and the warm humidity of summer. By morning, the humidity had dropped but so had the air temperature. It was cloudy and cold and remained so all day, with the high temperature of only 12 degrees. We were reminded why we wanted to leave Canada by mid-September last year, and glad we were almost home.
Becky was  mentally struggling during the ride. Being on the side roads away from traffic was nice, but it was also rather boring and the grey skies added to her glumness, making every pedal stroke a challenge. Shortly after an early lunch stop, we were pulled over by a lady with a camera. It turned out she was a reporter for the local Cobden newsletter. She interviewed us and then gave us some homemade apple sauce and tomatoes fresh from her garden. Her kindness put us both in a much better mood, and made the rest of the ride pleasant, despite the cold grey day.
Riding down through the Ottawa Valley, we saw that it is not only the centre of political power in Canada (the home of the Federal Government), it also has a variety of different sources of electrical power. As we followed the Ottawa River, we passed several hydro-electric dams, the site of Canada's first nuclear power plant (Deep River) where the precursor to the CANDU reactor was developed, and the current nuclear plant at Chalk River. It was the source of a large percentage of the world's medical isotopes, but has been shut down due to safety problems – an overview of the problems.
A bit later, we rode past what is claimed will be Canada's largest solar power farm. We we don't quite understand why prime farm land in the Ottawa valley was used for a solar power farm. We didn't think we were exactly in a sun-belt, but apparently West Carleton is quite sunny!

Farming solar energy in the Ottawa valley.
Our last evening before arriving at home was spent visiting our friend Susan, her daughter, and her two dogs. Scott joined Susan as she taught a yoga class that night at her new yoga studio, Hollow Tree Yoga. It is a beautiful studio, and the first dedicated space for yoga in Arnprior. He enjoyed his first yoga class in years – it felt good to be doing something different from our usual morning yoga routine.
Susan and her two dogs Jerome and Hamish. Yes, Hamish is a giant dog!
106 km, 5h 50 min, Pembroke to Susan's house south of Arnprior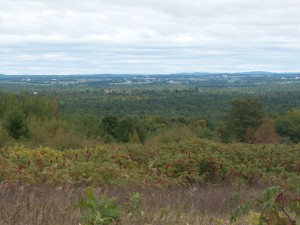 Beautiful view looking down the Ottawa Valley.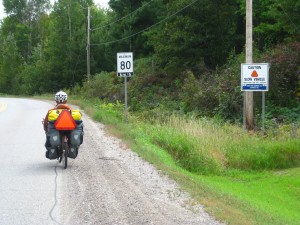 See the matching signs?
Nuclear power in Deep River – the trees have all grown in and up such that the scenic lookout isn't that scenic any more.