Shortly after leaving Gravel River, we ran into Lee, a cyclist from Australia riding to Vancouver. We pulled over and chatted for about 15 minutes and exchanged information on the road ahead. He mentioned a nice place for lunch in a picnic area just after Rossport – and he was right. It was a beautiful spot right on Lake Superior, which would make a beautiful wild camping spot if you don't mind being close to the highway!

Our beautiful lunch picnic spot.
We stopped for lunch and enjoyed some of Lake Superior – we used (boiled) lake water to make our noodles. We also took that opportunity to dry out our wet tent and tarp since our camping spot didn't have any morning sun. Just as we were finishing lunch and getting ready to go, a couple of other touring cyclists pulled up. Martin and Nadine have been on the road for 6 years, and are into the last 9-months of a round-the-world bicycle and canoe tour. They have cycled over 85,000 kilometers and spent several months canoeing in various parts of the world. Very adventurous!
Scott chatting with Martin and Nadine.
Since we were heading the same direction, we hopped back on our bikes and enjoyed several hours of conversation. After many days on the road, it's wonderful to have new people to talk to for a while. When we came upon the Tourist Info Centre in Schreiber and discovered free wifi, Scott and Martin immediately sat down to do their daily Internet tasks. At one point there were all four of us sitting on a bench – Martin and Nadine sharing their laptop and us with ours. We must have made a truely geeky sight. After a brief break, we were back on the road.
Since we were having such a great time together, we decided join forces for a few days while our paths intersected. Given their long journey and ultra low budget, Martin and Nadine almost always wild camp. We would wild camp for one night now and then, but generally we stayed in campgrounds when they presented themselves. Wild camping is definitely cheaper, but requires a little more organization and forethought (at least for us). We normally don't carry enough water to wild camp, so we needed to plan ahead. Camping with others would make it easier for us, but going for so many days without a campground (and shower) would also be a stretch (especially for Becky).
When wild camping, water is our most critical resource. Unfortunately, in Schreiber, Scott got distracted by the Internet and forgot to fill his water bladder – leaving us without enough water for cleaning. We were OK for cooking, but would not have enough to wipe the salt off of us at the end of the day. For Becky, this is critical, which meant that we had to find a wild camping site with access to water for cleaning. A trick we were reminded of later was to carry some baby wipes, for those times when water isn't readily available and cleaning is necessary. The wipes are also handy for cleaning up dishes when water is limited.
Fortunately, a river with a pullout appeared just as we were contemplating where to camp for the night. A couple in a car had pulled onto the trail just before we pulled in and they too were looking for a spot to put up their tent for the night. It turned out that following the road brought us to a nice clearing where we could all set up our tents and there was a path leading down to the river (a little steep, but still accessible).
While the girls set up tents and prepared dinner, the boys went to find trees to hang food for the night. Scott and Martin compared methods – giving us one more way to hang food, which required only one tree and less line.

Martin, Nadine, and Scott enjoying breakfast at our campsite.
Our second night together was spent camping just outside Neys Provincial Park. Rather than hanging our food on two separate trees, the boys setup our food to be hung from the same line (with two pulleys and pull lines, but only one base line). This required only finding one "ideal" tree – much less painful.

All our food bags hung on the same tree. Probably a total of 30-35 kg!
For our third night, we decided to stop a little earlier and find a nice location near a lake. Thanks to Scott's GPS, we were able to find a road with a small patch of lake access about 1.5km down the road. There was no sign of the lake from the road, so without the GPS we likely would never have found it. We saw no signs of life as we set up, so we were able to enjoy skinny dipping in the lake, but later we heard ATVs in the distance – hopefully we didn't give them too much of a show. The next morning some cottage owners passed us by as we were drying our tents out on the road. Fortunately we could move them quickly!

The view over our little lake in the morning.

Becky giving Scott a haircut.

Martin carries a battery-powered beard trimmer for haircutting, and Becky and Nadine both used it to provide much-needed haircuts.
At Wawa we sadly had to say goodbye. We were heading east to Timmins, but Martin and Nadine had an invite to Interbike in Las Vegas where they were to showing off their well-worn Vaude panniers at the Vaude booth. We wish them well, and hope we will be able to visit one day, wherever they end up.
If an opportunity to camp with other cycle tourists presents itself, we would definitely recommend it – even if it is only for one night. Each time we camped with others, we made great new friends and we learned and shared several new tips and tricks. Everyone does things differently, and not everything works for everyone, but there is always something new to learn.

Becky still can't believe we did not think of this one ourselves. Martin and Nadine had the same 14-speed Rolhoff hubs we did. They added two chain rings in the front and just manually changed them based upon the terrain. We could have saved much pain and been able to ride a little faster if we had thought to just add the second chain ring. This is definitely a modification we will make when we get home!
89 km, 6h 10 min – Gravel River to Steele River
112 km, 7h 20 min – Steele River to White Lake
96 km, 5:50 White Lake to McCormick Lake
42 km, 3h 15 min McCormick Lake to Gravel Pit (between Wawa and Hawk Junction) – near Ghost Lake

Becky sitting on top of a picnic table at a not very nice rest area. This rest area did not even have outhouses. It was just a pull out on the side of the road with a picnic table and garbage can – which sadly many people chose not to use!
A beautiful view of Lake Superior.

A beautiful and huge mushroom. When walking through the woods at night, these mushrooms stand out so much that they almost glow!

Nice rest area for a dinner stop. Scott was originally attracted by the bikes on the pole. The rest area is provided by the town of Manitouwadge, a former gold mining town reinventing itself as a tourist destination.
Riding a little later at night than we usually like to. Notice how our triangle signs seem to glow in the dark!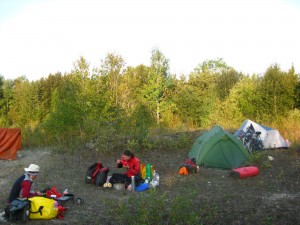 Becky and Nadine making breakfast on our second morning.
A nice posed shot – no we don't normally ride three abreast!
White River – home of the bear that inspired Winnie the Pooh.
Notice how we all have mirrors?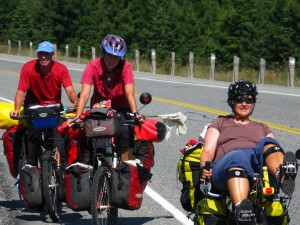 Approaching Wawa.
Becky and Nadine sitting under the Wawa goose.