Today was a really short day – we made it through Kenora and almost to the junction of highway 17 and highway 71. Becky was feeling very tired and sore after the long ride yesterday such that every small uphill was just a slog – only 43 km in 3 hours! Rather than continue slogging along, we decided to get a campsite early (around 3 pm) and spend the afternoon relaxing.
We have discovered that camping in Ontario is ridiculously expensive – I suppose we should have known, as we recalled it being expensive, but did not remember it being this bad! The list price on the Provincial Campground website ranges from $35 down to a mere $27 per night! These are basic campsites without RV services. So tonight only, we splurged and forked out $32 for a campsite at Redden's trailer park – fortunately, it is a nice site near the lake and down a hill from the highway, so we should not be hearing traffic all night. As a bonus, the campground store is also an LCBO (Ontario liquor store), so we were able to have a cold beer with dinner.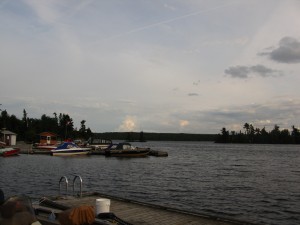 Pretty view of Longbow Lake from the beach at our campsite.
As Becky was purchasing her after dinner snack, she ran into another touring cyclist, Matt – who turned out to be one of a group of 3 cyclists going the other direction and heading to Vancouver for the winter. We shared tips and tricks about the road ahead and passed along our Alberta / Saskatchewan map. Unfortunately, the campground here only allows one tent per site, and it was full, so we wished them well, and they headed on to Kenora. Good luck and safe journey to Jessica, Robbie and Matt!


Jessica, Matt, and Robbie
43 km, 3 h – Clearwater Bay to Longbow Lake