Saskatchewan has us in its grips and doesn't want us to depart. It started with poor roads after Raymore, which slowed us down, then it was winds from the east, making every kilometer a struggle. Finally, we got drenched in unseasonable downpours. OK, so maybe it isn't a conspiracy, but it does feel a little like the universe is conspiring to hold us back.
Our chosen route through Saskatchewan has brought us through many small towns – all with exceptionally friendly people. Just the other day Becky was walking to the laundromat (about 3 blocks from the hotel) with two grocery bags full of wet laundry, and a gentleman in a pickup stopped and asked if she needed a ride. We wouldn't see that in Ottawa!
We left Watrous on a joyfully sunny day – although the wind was definitely slowing us down. It was one of those days when the clouds were just right (like on the Simpsons) such that all your pictures look great. To add to the sunny skies, the flax was in full bloom. Twice Becky was confused – she commented to Scott we should take a break up near the lake, only to discover it wasn't a lake, rather a field of flax! Then later in the day she thought she was seeing flax when it turned out to actually be water.
At one point we passed a pond with four large birds that looked an awful lot like pelicans! When we stopped to take a picture, they flew away. We were amazed at just how big they were – especially in comparison to the ducks with which they were sharing a pond. A bit of Internet research later turned up the White Pelican, the only pelican native to Canada. It turns out Saskatchewan has more than half of Canada's breeding population, and until 1987 they were a threatened species. We feel lucky to have seen them. Throughout our ride in the flat lands – the prairies and the flats of BC between the Coastal Mountains and Rocky Mountains – we have observed hawks with smaller birds flying around them and sometimes even landing on them. At first we thought this was some weird symbiotic relationship between the hawk and a red-wing blackbird, but we confirmed that what we were seeing was hawks with fledglings. They are very amusing to watch as they fly over us and the fledglings try to catch a ride on mom's back!

White Pelicans
When we turned off onto highway 15, and stopped for a snack, Dave from the Last Mountain Times (a local newspaper) stopped to take our photo and ask a few questions about our bikes.
When we pulled into Raymore, we went in search of the two campsites listed on their municipal website. We have found that municipal websites can be a very handy resource for learning where there are small town campsites, that are never listed in Google Local or any of the provincial accommodation guides. Raymore had two campsites, one next to the Memorial Park and one near the sports fields. We noticed that the Memorial Park campground backed directly onto the train tracks and the Cargill grain elevator, promising a noisy night, so we went in search of the one near the sports fields – which also mentioned showers. We found the campsites, but the shower building was locked and there was no indication of life. Needing groceries, we headed to the grocery store to ensure we had enough provisions for the night and delaying our decision on where to camp. In the grocery store, Becky asked about camping in town, and the lady in line after her offered to make a quick phone call regarding the sports field campground. Half an hour later, the person from the town hall office drove up to the campsite and gave us the key to the shower building. For $10 we had our own private showers, and a safe place to store food and our bikes for the night. The campsite was basic and did not have any picnic tables, but we were able to use the wood storage container (an old freezer) as a table for cooking. We were glad for the place to store our food, as several times in the night a skunk came near our campsite – a not to subtle reminder that even though we are not in bear country any longer, there are other threats to our food supply.
The next day the skies threatened rain all day and the temperature dropped. We were actually rather cold riding. We also felt like we were riding uphill and into the wind all day. Our progress was slow. We stopped in at the Broken Spoke Café in Kelliher for a snack – yummy perogies and sausage. We were extra delighted to learn they had free wifi, so our brief snack turned into a 3-hour break. According to the Kelliher website, Kelliher is "situated on the highest point of land along the CNR Mainline from Winnipeg to Saskatoon". No wonder we felt like we were riding uphill – we were!
We pulled into Ituna at around 8 pm, hungry and with threatening skies. We decided to check out the "hotel" which was situated above the bar. Becky went inside to see only a few men sitting in the bar drinking. When she enquired of the bartender regarding a room, his reply was not overly friendly or particularly helpful. She did learn that rooms were $45 per night, but he was not certain if they even had one available. It all seems a little shady to her, so she decided this was not a viable option. We would check out our first Saskatchewan District and Regional Park. Before we had a chance to leave town, we were greeted by a women jogging and then two other men – all asking about our bikes and our trip. The friendly conversation cheered us up after Becky's reception in the bar. After chatting for 15 minutes, with the weather threatening, we finally made our out of town and found the park.
The park turned out to have a nice sports area with outdoor swimming pool, soccer fields, and baseball diamonds. There were several campsites and picnic areas protected nicely by trees. They also had a nice picnic shelter, with all the tables removed. The place was almost empty – with only one fifth-wheel trailer which looked to be a permanent fixture. Given the forthcoming rains, we setup the tent under the shelter and also moved a picnic table into the shelter, so we had a nice dry place for dinner and our tent. The showers for the pool were left open for campers, so we also had nice hot showers – although you had to hold the button down to keep the water flowing. All-in-all, the Ituna District and Regional park is rather nice. We are not certain how much it cost, as there was no indication of price or how to pay and no one came by to check us in.
The down-pouring rains started shortly after we crawled into the tent, and were on and off all night long. In the morning, we opted to go to town and grab breakfast at a restaurant before making the journey to Melville – a much larger town with more services. After a delightful breakfast, and answering many questions of the restaurant patrons who were brave enough to ask us – we packed up and headed out towards Melville. The rain had been waxing and waning all morning, but once we got on our bikes it never let up. The rain poured down and the wind hit us full force from the front – fortunately the ride from Ituna to Melville was mostly downhill, such that we were still able to average 18 km/hr.
We pulled into Melville and rode around to get our bearings. Then we found the Bakery and Coffee Shop and hobbled in dripping wet. The folks there were very friendly and allowed us to place our dripping wet weather gear in the back near the ovens where it had some chance of drying out while we enjoyed hot chocolates and sandwiches made with fresh bakery bread. Even though it was only 2 pm, it was clear that we wouldn't be riding any more for the day. We decided to find a hotel for the night – before doing that, we stopped by the Co-op to get some groceries. Typical of small town Saskatchewan, someone at the Co-op recommended the best hotel in town to us. We are staying at the Melsask Motel, where $44 after tax gets us a nice clean room – albeit a little small when you cram the bikes in – with fridge, microwave, access to a gas BBQ, working heat, and Internet. We love small town Saskatchewan prices! When the rains continued the next morning, we decided to take an extra day to rest up and get caught up with our blog posts.
Watrous to Raymore 100 km, 5h 30 min – headwind but picturesque day
Raymore to Ituna 92 km, 5h 50 min – headwind and threatening skies
Ituna to Melville 62 km, 3h 30 min – very wet
Fields of flax in bloom that from a distance appear to be lakes.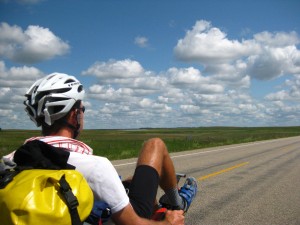 Scott riding through the prairies on a picture perfect day!  
Funny looking cow – looks to us like a cow-buffalo cross. We have seen a few of these in different places – any idea what they are?
A not so smooth chipseal road on a picture perfect day.