The Yellowhead pass proved to be a non-event. Our campsite at Mount Robson Lucerne turned out to be less than 20 m below the top of the pass – not much of a climb. The road was mostly downhill from the pass into Jasper, so we had a nice relaxing morning ride.
We arrived in Jasper looking for a place for lunch and Internet. Jasper was a complete zoo, reminding us a lot of Whistler or Banff. Much more touristy than Scott remembers from his last visit in 1996. It is definitely a tourist resort type town, and the part we saw didn't feel at all like a place where people live. There were tourists and RVs everywhere. Anyplace we could find with Internet charged for it – so eventually we settled on a small breakfast and pizza/pasta/burger place that only charged $3 for unlimited wireless access (better than $2 for 20 minutes, which is what the others were charging). Given that the next few days will be free of services including Internet, we decided it was wise to do one last check on things.
Back in 2003, we rode the Icefields parkway as part of a tour with the "Tour de Canada" company. You can read the journal here. It was interesting to be able to ride at least a portion of that route again, and experience it from a completely different perspective.
Immediately upon entering highway 93 – the Icefields Parkway – we saw other cyclists. Throughout our ride on the parkway, we would see cyclists with and without gear, young and old, going north and south, riding all or a portion of the parkway. There are either really wide shoulders or passing lanes throughout the parkway, making it great for cycling; however, the conditions of the road is not great. From our previous trip, we don't remember the road and shoulder being all cracked and bumpy, but it certainly is that way now.
We rode right past Athabasca Falls and Sunwapta Falls: they were both surrounded by throngs of tourists. Every time we pass by the tourist attractions in a rush to get to our night's destination, we wonder if we have lost our focus and are concentrating too much on mileage and not enough on seeing what there is to see. That being said, we have both seen Athabasca Falls and Sunwapta Falls several times already.
The climb up to the Columbia Icefields Visitor Center (the hardest part of the Sunwapta pass) was definitely a long hill. Becky remembers huffing and puffing up the hill the last time, so she was happy that she could slowly make her way up in low gear without too much struggle. Scott was happily
spinning up the hill in low gear and singing to himself. It seems that the climb we did in Malaysia and Thailand really did set the tone for hills, and made most other climbs seem minor in comparison.
As we passed particular spots on the Parkway were we took pictures on our last trip, we tried to take a new photo of the same thing. Several times this proved to be a challenge, as we were at the various locations at a different time of day, so the sun was often blocking the shot we wanted.
Last time, we stayed in hostels. This time, we decided hostels were too expensive for us ($27 per person per night), so we camped. So each day, Becky's parents went on ahead and ensured we got a nice campsite. The first night we stayed at the Mount Kerkeslin campsite. It was in a nicely wooded area, and the pit toilets were newly constructed and smelled of new cedar. The second night we camped at the Wilcox campsite at the top of the Sunwapta pass – the campsite is actually higher than the pass itself! It had spectacular views and was definitely our prettiest campsite so far.
We were surprised by how cold it was in the mornings. We certainly did not remember that from our last trip – we guess that staying in hostels and having breakfast indoors meant that we missed the cold mornings. Once the sun rose over the mountain peaks, the temperature increased dramatically, and we had bright sunny days.
77 km 4h 30 min Mount Robson Lucerne to Kerkeslin Campground Icefields Parkway Alberta
74 km 5h 40 min Kerkeslin campground to Wilcox creek campground Icefields Parkway Alberta

Yay! We made it … and not such a bad climb afterall.

Becky riding into the park.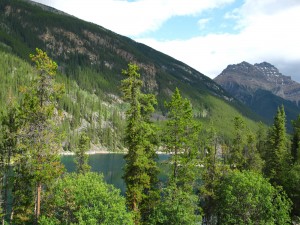 Beautiful views.

Athabasca River with some more beautiful mountains.

Trees growing out of rocks.

The Becky sitting on a rock shot!
Beautiful waterfall.

Climbing Sunwapta Pass.

Yay! We made it.

View from the Wilcox campsite.