As we explored Prince George over the past two days, we decided that we this was a stereotypical Canadian experience. The people we met, the things we did, and everything we learned about the Prince George area reminded us of what it was to be Canadian.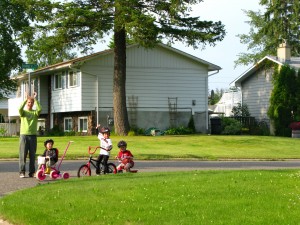 Our welcoming committee, waiting at the end of a typical Prince George street for us.
When we arrived at Garth's place, we were pleasantly surprised to learn that Garth's mother Sue and her partner Vic were also visiting. They stopped by as part of a seven-week cross Canada road trip. It was neat to talk to them about their adventures in Eastern Canada and reminisce about our time their last summer.
On Monday morning Garth gave us a brief tour of Prince George with the necessary stops at the Terra Cognita offices and city hall. We even had an opportunity to shake hands with the Mayor. Boy do we feel special :). For many years, Prince George industry has been centered around forestry and the paper mill, but is now in transition, like many places in Canada. It is moving to a service-oriented community, with less reliance on natural resources. Now the largest single employers are the University of Northern BC and the Northern Health Alliance. Logging and wood related industries remain an important part of the economy, but they are no longer the only industry in town.
We also had a chance to visit with Scott's godmother, Karen. She has lived in Prince George for over 25 years, so it was interesting to hear her perspectives on the changes to the city. We were joined for dessert by Karen's youngest godson Issac and his parents. It was an amusing coincidence to learn that Issac's father was one of the chainsaw carvers we saw while in Campbell River. John had worked in a sawmill for many years, but when recovering from an injury he took up carving. Now he creates carvings in various sizes, from small soapstone carvings to huge chunks of cedar. His carving came in second place at the Campbell River competition, which is pretty impressive – there were carvers from all over North America competing.
On our last night here, Scott joined Sue and the kids at Timbits soccer – a tradition throughout Canada every summer. Prince George has a very impressive soccer complex, with tens of fields, from full size down to the ultra-mini fields used for the teams of 4-year-old kids. (Tim Hortons also sponsors Timbits hockey in the winter, as well as other minor sports)
Looking out over Prince George from the university, we could see the mill, the hockey rinks, the soccer fields, the river and the trees everywhere. Some of these were in other cities we've visited, but the total effect is something we've only seen in Canada.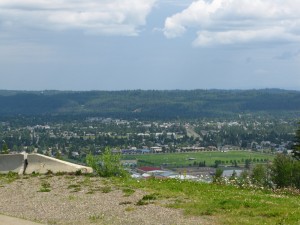 While we were in Prince George, we also heard from Becky's Mom in Kitimat. The results of the tests she had done in Kitimat were in. These were for some chronic but cyclic intestinal distress she's been having, and we were concerned that she might have picked up a parasite somewhere. The doctor wanted here to see someone to review the results and discuss next steps. It wasn't really urgent, but there was not going to be another opportunity for several weeks, so we took an extra rest day and spent the morning in emergency (the only way to see a doctor during business hours in Prince George if you are not a regular patient). The results from Kitimat and further tests here proved to be inconclusive and the advice from the doctor here was to look into it further when we get home. We'll try not to need any more doctors visits until then!
Leaving Prince George, we experienced one more quintessentially Canadian experience – a bear crossed the road in front of us. Fortunately, it was not that close and it paid no attention to us. So now we have seen deer, foxes, beavers, eagles, moose, and bears!