48 km, 3 hr
Q: Where are you from? A: Ottawa.
Q: Where are you going? A: Ottawa.
Q: Where did you start?
Today on during one of our stops, a cyclist asked us these three questions in turn. After the first two, he said "and don't say Ottawa!" Unfortunately we had to tell the truth. We were amused, both that the answers to all three were the same, and that this is the first time on our trip where they have been. Previously our answer to "Where are you going?" had always been "back to Canada" or the next country on our itinerary. Here, we can even assume everyone knows where Ottawa is!
We had a delightful ride along the Lochside trail – the bike route between Victoria and the Swartz Bay ferry terminal. The ride would have been more relaxing except that we were trying to make the 1:10 pm Salt Spring ferry. At 12:50 and still 4 km away, Becky did not think we would make it, but Scott did. Becky decided to let Scott prove himself wrong and allowed him to rush us to the terminal anyway. For the last 500 meters, Scott went ahead (it was up hill) and got in line to buy tickets. He played the polite Canadian and waited at the back of the Saltspring line, which wasn't moving. When Becky arrived, she immediately pulled up to the "Southern Gulf Islands" line and asked if they would allow two bicycles on the 1:10 pm Salt Spring ferry. The lady made a phone call and was given the OK, so we purchased are tickets and were off. In the end, the ferry left 10 minutes late so we aren't sure who really wins the argument. Becky thinks we would not have made it if the ferry was on time, whereas Scott saw a sign 'no ticket sales within 5 minutes of sailing time', and the clock said 1:04 when he pulled up to the booth with Becky – a minute or two after he arrived. This is the second time that we have arrived 10 minutes late to a ferry that was also running 10 minutes late – the ferry gods must be looking out for us.
Tonight we are camped at a lovely sea side campsite in Ruckle Provincial Park on Salt Spring Island. We arrived early, so were able to take our time setting up and enjoying the wonderful afternoon. On our way to the park, we passed a stall selling fresh free-range farm eggs. Of course, we grabbed a dozen, and fried up a few as are post-ride snack – they were delicious and definitely "eggs with real egg taste".


View from our campsite watching the superferry pass by.
It is definitely colder than we're accustomed to, and we were amused early in the evening to be bundled up in our big jackets and hats, while others wandered around in shorts and T-shirts.
Across the path from us, we noticed a couple of other touring cyclists. We went over to say hi, which turned into a long chat an amusing game of Bananagrams (a mix of Scrabble and a crossword puzzle) with Ian and Josie from Vancouver. Coupled with the awesome view, it was a great way to spend our first camping evening in Canada.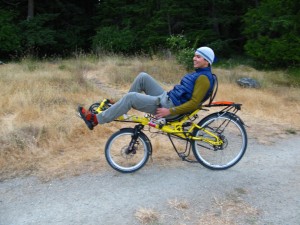 Ian test driving Becky's bike