17 km around town
Sorry everyone, we have been pitifully slow at updating the blog over the last week. Our energies have been devoted to visiting, shopping, and sorting through all our stuff. After a week, we are definitely feeling more at home back in Canada and our ready to get back on the road.
We went to Vancouver on Tuesday to spend a day visiting with our friend Meike and her kids Kate and Lucas. We enjoyed a wonderful hot pot dinner at the Little Sheep Mongolian Hot Pot – the same restaurant chain that we enjoyed so much on our last day in China (in Tanggu). We can attest that the Canadian version is almost as good, and the Tuesday night all you can eat special was a nice bonus. The one almost touristy thing we did was to drive over the new Golden Ears Bridge in Vancouver – opened on Tuesday, apparently just for us. It was great to spend some time visiting with Meike and her family. We wish her a speedy recovery and will continue to send lots of energy from our yoga practice to her.
We have been staying with Rowena, another of Becky's friends from university, in Victoria in her lovely new condo blocks from downtown. We did not get as much time visiting as we would have liked, but it was definitely nice catching up – thanks so much for your generous hospitality Rowena! On Thursday night, Rowena brought us out to the weekly Victoria Couchsurfing shindig. It was nice to meet several of the Victoria couch surfing hosts, and another surfer – Wayne who has been driving his RV around Canada for more than a year!
Thanks to Scott's parents, we had a big box of spares waiting for us, and were able to replace tires and shifters, and replenish our stock of brake pads and other bits and pieces. Our bikes have had a tune up, at Fairfield Bicycles, which actually stocks our bikes and even Rohloff hubs! Amazingly, our chains were measured as "no stretch" and given the thumbs up, so we did not need to replace them. Not bad for 5000 km – it appears the SRAM PC-870 chains are much more durable than the stock PC-830 chains provided by HP Velotechnik, which had damaged the rear cog after less than 4000 km. The guy at the shop thinks they might make it all the way back to Ottawa – but if not, we will have a few opportunities to change them. The bikes are now ready for the next phase of our journey.
Packing prove to be a challenge, as we had to sort through everything, figure out what needed replacing, replace it, and then figure out what needed to be shipped to Kitimat for possible use in Northern BC and what needed to be sent home. We thought that getting the large parcels to the post office would be a real challenge but in the end, we were able to strap them to the back of our bikes for transport. We mailed 20.6 kg home and 7.4 kg to Kitimat – we hope our bikes will be feeling a fair bit lighter now. (To be fair, we also received about 20 kg here, some mailed ahead from Singapore as well as the spare parts from Scott's parents, but we're still a fair bit ahead – especially since we are now carrying all our cold weather gear again).
Our planned journey for June and July currently looks like this:
June 20 – 28: Ride from Victoria to Port Hardy via Salt Spring, Comox, and Campbell River
June 29: Ferry from Port Hardy to Prince Rupert
June 30-July 1: Ride from Prince Rupert to Kitimat
July 1 – 5: Visit with Becky's parents, attend Becky's 20th high school reunion
July 6 – 11: Ride from Terrace to Prince George
July 13 – July 31: Ride from Prince George to Saskatoon via Jasper, Icefields Parkway, Saskatchewan crossing, Rocky Mountain House, and Red Deer
Aug 1: Attend Jodi and Cameron's wedding in Saskatoon
Aug 2 – Aug 8: Ride from Saskatoon to Winnipeg
We have not yet decided what we will do after Winnipeg. We have the option of either a cross-Canada ride via the Trans-Canada north of Lake Superior or change to a cross-North-America ride via some less busy roads south of Lake Superior. If you have any advice on routes, we would love to hear it.
Little Sheep restaurant – clearly the same chain as in Tanggu, China, but this time we can read the tagline.
Us, enjoying the hotpot. The spicy half was a bit much – even for Scott and Kate, but everyone was happy with the original flavour.
Golden Ears Bridge
Coastal Celebration ferry. It's one of three brand new ferries, which are the largest double-ended ferries in the world. Not just ramps at both ends, but two bridges, two props, two engines…
Some of the stuff we're sending home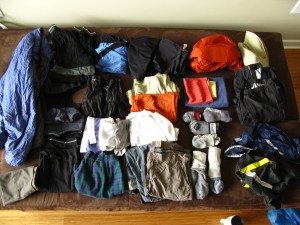 Scott's clothing pile