31 km, 2h 10 min
Heidi and Scott set a quick pace for the grey and chilly ride from Heidi and Dick's place in Sequim to the ferries in Port Angeles. We were delighted to have guides for our ride out to the ferry, and we thoroughly enjoyed our visit with Heidi and Dick. They are living our dream life – retired young and enjoying the outdoor life in a beautiful setting where they can bike year round and still ski in the winter! Sequim is in the rain shadow of Mount Olympus, so it doesn't get much precipitation, but in winter the snow can still be found not too far away the mountains.
We took the "Victoria Express" ferry from Port Angeles to Victoria. It's a small family-run pedestrian ferry, but they were happy to accommodate our bikes, and we were able to bring them on fully loaded. Apparently the Coho car ferry doesn't think bicycles are actually vehicles, so we would have had to board through the pedestrian walkways, and snake our way through narrow customs lines. The Victoria Express made the process quite painless, although our bikes did get a fine misting of salt water – we were assured that alternative arrangements could be made if requested. In addition, the Victoria Express is faster, cheaper, and more environmentally friendly than the larger car ferry.
After hopping on the boat, we were struck by how we did not need to clear any "exit" customs when leaving the US. The only other country that we were in that did not have exit customs was Greece.
Canada Customs in Victoria was a breeze. The customs officer was curious about our trip, so in the end we chatted with him for about 10 minutes about it. Becky asked to have our passports stamped – to help remember the specific date of our re-entry. Normally they do not stamp Canadian passports when Canadians return from the United States; however, the customs officer made an exception for us. Nice welcome home!
It was much warmer and sunny day in Victoria, and it did not take long for Becky to finally warm up – she was quite chilled after the mornings ride and the ferry was not particularly warm. We are staying with Rowena, a friend of Becky's from university. Pulling up to her new condo in Dockside Green, we were greeted with a warm smile and welcoming hugs. It's nice to be home!
Becky went to the grocery store to pick up a few necessary items (breakfast and snacks) and was shocked at the price of everything. The grocery store nearest Rowena's place is in a new condo neighbourhood in downtown Victoria so the prices are a little steeper than at other places – but it is still going to take a while to get used to how much more expensive eating is.
For our first dinner out in Canada, Becky chose dinner at the Keg Steakhouse for "old time's sake". She remembers eating there for many special occasions back when she was studying at the University of Victoria. Unfortunately, the Keg's standards seem to have slipped, and the meal was disappointingly mediocre. Oh well.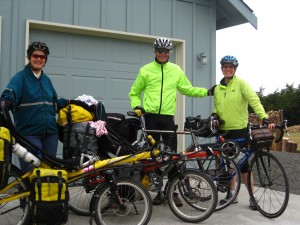 On our way to Port Angeles
Our loaded recumbents look even stranger when they're right beside a diamond-frame bike
Our bikes: safe and secure at the stern of the Victoria Express.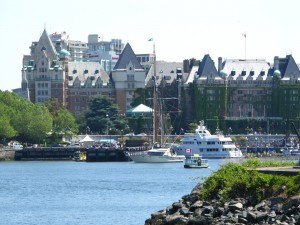 View of downtown Victoria from the inner harbour