It seems like we have been spending more time resting than riding lately. Given how Becky was feeling yesterday, we really did need another day off the bikes, and our bikes were in need of some tender-loving-care. So today was dedicated to bike maintenance and relaxing.
On the bike front, we began be deconstructing our shifters, to try and figure out why they were not shifting smoothly. These are the same shifters we had trouble with on our shakedown cruise last June. Since then we've been lubricating them regularly, and that has done the trick, but that doesn't seem to work any more.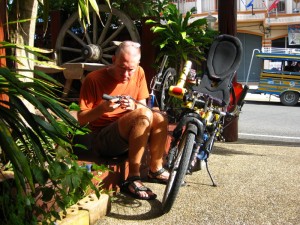 Once we had them apart, we could see where the friction had damaged the metal – we suspect this occurred with our initial shifter lockup problem back in June. Scott cleaned everything out and re-greased everything. Becky still things here shifter is stiffer than she'd like, but it is better than it was. We will plan to replace the shifters with the new ones we got from HP Velo when we get to Victoria in June.
Scott also replace Becky's front brake cable which got damaged during one of the many times the bike has fallen over (or been placed on its side for buses). He also replaced the front brake pad which had mostly worn out on one side. With the smooth shifter and strong front brake, the bike feels like new!
Unfortunately, we did not quite get around to swapping out Scott's brake pads or cleaning the chains. That will be task for another maintenance day sometime later. BTW, we did measure Scott's chain and validated that it is still good. We don't plan to change the chains until we reach Victoria, so this was good to find.