Given Becky's heat rash, we decided to take a day off and enjoy the air conditioning in our room. Kuala Rompin is a medium sized town, so there are many food stalls and many shops. There is an Internet café just down the street from our hotel, so we are able to keep up-to-date with our correspondence as well. We expect to be out of Internet range for a day or two once we get back on the bikes.
Today's post is about some of the food we have been enjoying. We can't give you names for much of it, as we are only slowly learning what things are called in Malay. Malaysia's population is made up of roughly 50% Malay people, 33% Chinese, and 9% Indian. These are the three largest ethnic groups, and the food stalls are strongly influenced by each of them.
We have had several Malaysian Chinese meals – mostly dinners and one breakfast. Our experience with our limited sampling of Chinese food places is that the food is expensive and the quality is not great. The meals are reminiscent of American Chinese food rather than the yummy food found in Hong Kong or mainland China. Scott has memories of great Chinese food in KL, so we remain hopeful.
Most of our meals have been Malaysian or Indian. These meals have come in two types: the steam tray and a-la-carte. With the steam tray, you get a plate of rice and add your choice of items from the steam trays. These are usually help yourself places, and we seem to be charged based on the number of items we choose, not the quantity of each item. The cost has been around 5 RG ($3 CAD) per plate.
At the a-la-carte places you need to know what to order; however, there is often someone around who speaks enough English for you to suggest some options for you. For breakfast we have discovered a great Malay dish of coconut rice, with fried egg, or fried fish, and salty crispy minnows "Nasi Lemak Telur" or "Nasi Lemak Ikan". This provides excellent fuel for cycling. Roti Telur, a piece of flat dough fried with an egg in the middle is another yummy breakfast. They sometimes call Roti a pancake. Breakfast at a Malay restaurant costs about 7 RG for the two of us, including our coffees.
Drinks are often sold by a separate vendor, but can sometimes be ordered through the same waiter. Sometimes you pay separately for drinks, and sometimes the drinks are included in your bill. So you always need to check. Compared to food, drinks are expensive, at 1.50 to 3 RG each. Our favourites are iced coffee and fresh orange juice. Even Scott enjoys the coffee! (If we wanted to drink more cheaply, regular coffee is usually 1 RG or less).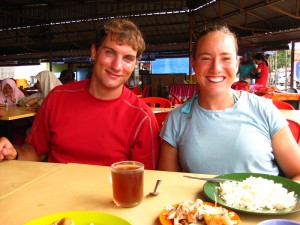 After lunch today, we came back to our hotel, to discover two other touring bicycles being unloaded. We were stunned to discover not just a pair of touring cyclists, but a pair of Canadian touring cyclists! Mike and Kat left Winnipeg in September, and have been touring in Utah, Colorado, New Zealand and Australia. They arrived in Singapore a few days after we did, and will be following roughly the same route we are, until China, where they plan to turn west and try to cycle through Tibet and Nepal. We spent the afternoon and evening comparing notes and sharing stories, as well as enjoying some more great food. Good thing we stayed the extra day here, or we likely would have never met them.