12 km.
We had a pretty slow start to the day, mostly sleeping in, and figuring out what we want to do with the rest of our time in Goreme. We decided that we would try renting mountain bikes in the afternoon and check out some of the valleys near Goreme.
We got some decent bikes, but both felt rather uncomfortable at first. It took a while to relearn the different balance on the bikes. Becky originally led us to a path that was much too technical for us, such that we were "taking the bikes for a walk" more than mountain biking. Fortunately, after a few kilometers on less challenging terrain, we were able to get the feel for the bikes and tackle some of the smaller ups and downs.
Riding through the fairy chimneys and cave dwellings makes you feel like you are riding through the land of hobbits, especially when you consider the short doors and low ceilings inside the caves. Eventually, we found some signs that led to a cave church (we were actually trying to get to Rose Valley, but we never actually made it that far before we ran out of daylight and energy).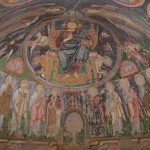 We followed a trail that led to a café and a church. Once we arrived (after climbing a few sets of stairs carrying the bikes), we paid the small fee to see the church. If we had arrived earlier in the day, we would have enjoyed a cup of tea at the café; however, after seeing the church we really needed to get down out of the hills before darkness fell. Becky was amazed at the church which seems like it is in the middle of nowhere, high up in the hills, but if you think about how people lived throughout the hills in the various caves, you can see that the church would have been close to some dwellings.
In the end, we were reminded that we both enjoy mountain biking, but the muscles used are very different from riding a recumbent. Also, Becky was reminded that her recumbent biking shorts do not provide adequate padding for a regular bike (ouch) – if we do it again, she'll need to borrow a pair of Scott's shorts!