On Sunday morning we took the bus back to Izmir for a short visit with Gul and Metin, to do some chores, and to pick up our bikes. We had planned to stay until Wednesday night, but Metin checked for us and discovered that all the buses to Goreme in Cappadocia were full starting Wednesday through Bayram (the Eid Al-Adha Sacrifice Festival starting December 8th). Our only option was the overnight bus on Tuesday, so with the help of Metin, Scott bought us tickets.
Monday and Tuesday were spent doing bicycle maintenance and making a couple of purchases. With the help of Gul, Becky finally bought a new pair of pants, and was able to visit a Salon for KUAFÖR (similar to waxing for hair removal). With the help of Metin, Scott was able to buy us a mobile phone, so now our friends can contact us while we travel.
Becky says:
On Monday after work, Gul and I went out to buy me a new pair of pants. On our walk back, I noticed that there was a planet near the moon, such that the night sky looked like the Turkish flag. Amusingly enough, Metin's father phoned later that night to make the same comment.
Scott subscribes to NASA's Astronomey Picture of the Day, and they have had several great photos of the scene, including the one here.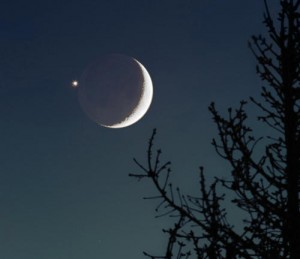 The trip to the Salon for kuafor was a definite cultural experience. In Canada, waxing is a common method for hair removal, and that is what I had expected in Turkey. I had heard that rather than a was a warm sugar is used, which is actually less painful that wax. However, when I asked for my eyebrows to be treated, no wax was used. Instead, the esthetician used something that looked like dental floss and felt like a razor. Once she was finished with this tool, she used tweezers to pluck out any stray hair. It was horribly painful. Fortunately, the waxing of the under arms used a similar process to at home and was less painful.
When all was done, and it was time to pay, I pulled the money out of my pocket. Fortunately, Gul had told me exactly how much it was to cost. Then a lady there returned the money to my hand and motioned for me to drop it onto the floor. Once I did this, everyone smiled and all was done. I asked Metin about this practice, but he had not heard of it before. I'll have to wait until I see Gul again to see if she knows why this was done.