Today 79 km.
Ride time: 4h 16m
Track for trip to Cape Bear.
The day started and ended lovely. The sun blessed us most of the day.

Our first stop was at the visitor information centre just outside the Wood Island ferry terminal (where the ferry from Nova Scotia lands on PEI). We were amused by the fish shaped bike rack.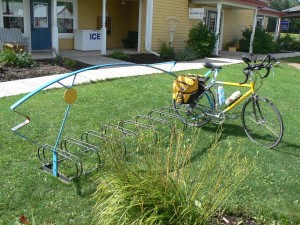 Our first detour was to see the Wood islands light. The whole time both Scott and I were singing the Arrogant Worms:

Oh the Wolfe Island Ferry is a very nice ferry
It´s a very nice ferry it´s the Wolfe Island Ferry
The Wolfe Island Ferry is a very nice ferry
It´s a very nice ferry, it´s the Wolfe Island Ferry
As we recalled various portions of the song, it occurred to us that there was a reason the Wood Island Ferry reminded us of Wolfe Island Ferry (near Kingston Ontario) song. Apparently, were were not the first people to see the similarities. The lyrics include:

Well, they´ve got lots of potatos & Anne of Green Gables
Oh crap, that´s Prince Edward Island

The wood island lighthouse is on the southern most tip of PEI .


Wood island light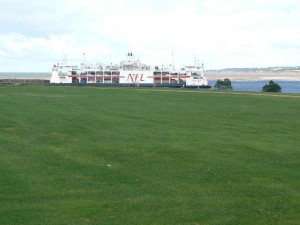 The Wolfe Island Ferry is a very nice ferry. It´s a very nice ferry, it´s the Wolfe Island Ferry.
After the Wood Island light and ferry we continued down the road to the Rossignol winery (the only winery on PEI). We sampled several of their wines and bought a bottle for dinner that night and a fish shaped bottle to take home.
We then continued along the road to the Cape Bear Lighthouse. Unfortunately, the lighthouse was closed on Mondays, so we did not get a chance to venture inside.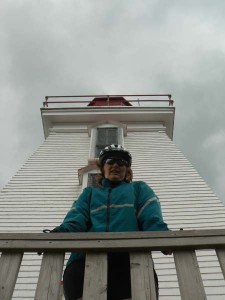 When we were finished out lighthouse visits, we stopped for lunch in Murray Harbour at the local greasy spoon. Unfortunately, we discovered during lunch that a new organic local food restaurant (Finnan Haddie) had opened up in Murray River (less than a 30 minute ride away). If only we had known :(.
After lunch we headed back to the Fiddle Farm via the Confederation Trail. This was our first experience with the trail. We discovered that it is no paved. The trail is packed stone in some places and packed clay in others. On the part from Murry River back to Flat River, it is packed stone. We found it hard to make progress, compared to the roads, so at one point we jumped off the trail a little early and followed an adjacent road (which started out as clay and quickly became paved). Throughout the rest of our trip, we would be debating between the flat slow going trail or the hilly smooth roads.